Rincon Brewery releasing new 'Avo Ale' in time for upcoming California Avocado Festival
Read full story here!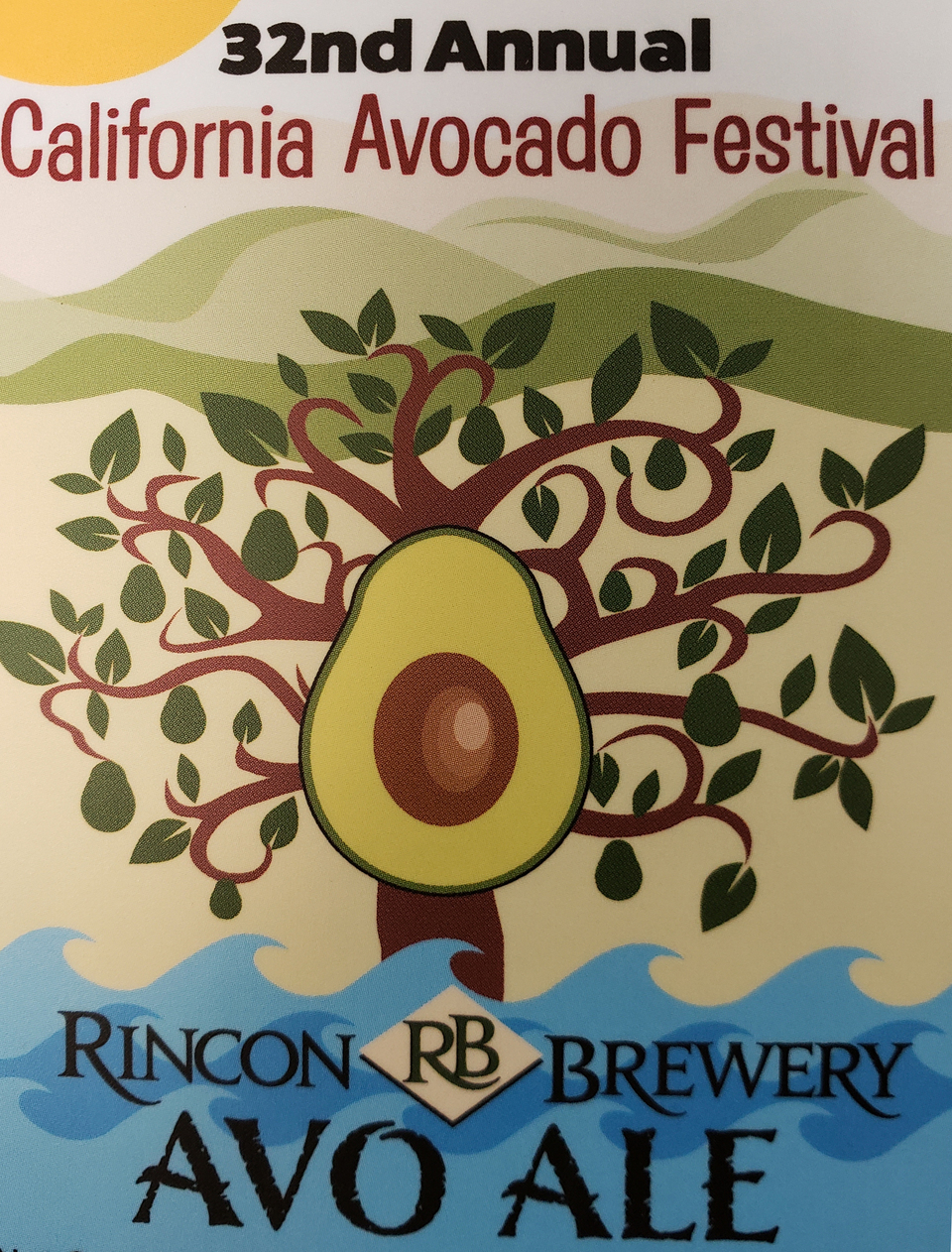 VanWingerdens named 2018 Honorary Festival Chairs
Ed and Nadia VanWingerden have built a life around family and agriculture in the Carpinteria Valley. This year, the VanWingerdens will be the 32nd Annual California Avocado Festival's honorary chairs.
"I'm honored, by all means," said Ed. "Avocados are a big part of Carpinteria and it's great to be amongst past honorary chairs."
The VanWingerdens planted their first five acres of avocados in 1980 as a buffer for their flower nurseries. Today, they grow 50 acres of commercial avocados, 45 of which are certified organic.
At the VanWingerden's Everbloom Flowers, the family grows flowers, avocados and cannabis.  "The new and old of Carpinteria," Ed said.
Originally from Holland, Ed immigrated to Carpinteria in 1967 at the age of 11. His Dutch family members were lettuce and tomato farmers in greenhouses in Naaldwijk for 300 years. The family relocated to Carpinteria seeking more opportunities in what Ed described as, "a country with less bureaucracy and more opportunities to grow."
Nadia is of Ukranian-Canadian descent and while you might see her slinging avocados at the Santa Barbara Farmer's Market, she is also the founder and owner of Sage Hill Farm, a small organic poultry farm. "I have chickens, turkeys, heritage turkeys, rabbit, ducks, quail and Guinea fowl," said Nadia. "I've been at the farmers market for over 30 years. I started selling flowers, then certified organic avocados, and then as the business grew, my poultry products."
Nadia is also an English as a Second Language teacher at the Children's Project of Carpinteria. "I've always been a teacher. I used to teach Spanish and now I'm so honored to be able to serve what I have considered the marginalized in the community, helping people to have more control of their lives through language," said Nadia. "It's a complete balance. Teaching and market."
The honorary chair title was a surprise for Nadia. "It came out of nowhere," she said. "It will be interesting to participate and get an inside view of the nuts and bolts of the festival." Nadia is also looking forward to promoting the Avocado Festival with the Latino and Hispanic population in Carpinteria.
The VanWingerdens know Carpinteria avocados well. "Carpinteria avocados are special," said Ed. "We can leave them on the trees longer than most areas, especially compared to warmer climates like San Diego. So they have a higher oil content and it's a more flavorful piece of fruit."
The California Avocado Festival will take place Oct. 5, 6 and 7, 2018 in downtown Carpinteria. To learn more about the festival visit avofest.com/.
Story by Debra Herrick 
read more
Avofest releases new avo-infused poster
Growing up in Hermosillo, Sonora, Evangelina Cervera ate avocados daily. "They were part of my diet since I was born, I love them," she said. Here in Carpinteria, Cervera gets a taste of home every time she has a bite of a Carpinteria-native avocado, which she says taste just like the ones grown in her native town in northern Mexico. 
This year's 32nd Annual California Avocado Festival poster, designed by Cervera, is a celebration of life in Carpinteria—the layered mountain-scape, the rolling ocean waves and the ever-present sun. At the center of it all is the avocado.
Cervera's design was selected by silent ballot from nearly 40 entries, according to California Avocado Festival President, Gary Dobbins. 
"I just wanted to express what Carpinteria is for me," said Cervera who moved to Carpinteria two years ago and was immediately smitten by the beauty of the city and the easy-going nature of the people. "It's the sea, earth, mountains and avocados. Carpinteria is special." The Avocado Festival's poster was an opportunity for Cervera to show the affection she has for her adopted city with a fanciful, clean-lined design that stays true to her modern artistic style. "And the colors fit Carpinteria too," added Cervera. "The poster has an avocado color palette."
Cervera's background is in graphic design, having worked for over a decade in the newspaper industry in Mexico. Today, she is a specialist for the nonprofit Children's Resource and Referral in Santa Barbara and a freelance graphic designer based in Carpinteria.
What is Cervera's favorite way to eat avocados? She likes to eat them with just a little bit of salt, and that's it. "I'm from Mexico and you know, we love avocados. We eat about six avocados a week between the whole family." Another favorite way for Cervera to eat avocados is "in guacamole and tacos, obviously."
The California Avocado Festival will make the avo-celebrating poster design available to the public in a variety of forms, including posters, T-shirts and other merchandise. The festival will take place Oct. 5, 6 and 7, 2018 in downtown Carpinteria. To learn more about the festival visit avofest.com/.
Story by Debra Herrick
read more
2018 Vendor Application period Closed
Vendors that submitted an application will receive a letter and/or email regarding their status by July 20th, 2018.
2018 Beer Booth Volunteer Coordinator Application
California Avocado Festival: Celebrating 32 Years with the Carpinteria Community
Q. What is the Avocado Festival?
A. The California Avocado Festival is Carpinteria's largest family friendly community celebration and one of the largest free festivals in the country. It's expected to attract more than 100,00 people this year. This year the event will take place October 5th-7th on Linden Ave. from Carpinteria Ave. to 6th Street. With strong emphasis on maintaining a "Carp first" event, our success stems from the idea of celebrating everything that makes Carpinteria special: Delicious avocado inspired food, a wide variety of music, being a platform for local nonprofits and service organization to raise funds for their worthy causes, and most importantly, our dedication to raising scholarship funds for local youth in the areas of music, culinary arts, fine arts, and agriculture.
In addition, not only is it a large festival, but it is also a "green" festival. We have really worked diligently to reduce the carbon footprint in leading a "Zero Waste" festival. We divert virtually 100% of the waste to either recycling or composting instead of the landfill.
Q. Who runs the CA Avocado Festival (AvoFest)?
A. There are seven volunteer Board of Directors, hundreds of volunteers and one paid administrator. The 2018 Board members are: Gary Dobbins, our President for the last 5 years, Gregg Carty, Mike Lazaro, Emily Miles, Anthony Staal, and Richard Tinkstrom. Our Volunteer committee chairs are an essential part of the festival. We could not make it happen without them. We want to make sure they know how much they are loved and how grateful we are to have them! Geri Carty, Marybeth Carty, Annette Fisher, Robert Godfrey, Shiela Hess, Kim Homan, Carie Smith, Stephanie Medel, John Nicoli, Steve Sullivan, and Tracy Wilkie.
Q. How does the Chamber of Commerce come into play?
A. The Chamber is a supporter of Avofest, and we appreciate their efforts. We have historically paid them for their services in recruiting volunteers for the beer booths. This year, we have opened up the "Beer Booth Volunteer Recruitment Team" for bidding from all local non-profit, service organizations and businesses.
Q. Does the City of Carpinteria do any of the planning?
A. The City is a huge supporter of the festival; they are a vital partner in public safety. We have multiple meetings with fi re, police, public works, and city planners to ensure we are in compliance and all Carpinterians and festival-goers are safe.
Q. How much does it cost to run the festival?A. Approximately $350,000 – 400,000

Q. Where does that money come from?
A. Roughly speaking; 26% comes from booth fees, 24% from beer sales, 20% from merchandise sales, 19% from sponsorships and 6% from ice cream sales.
Q. The AvoFest is a big festival – where does all the money go?
A. Administrator and operating costs throughout the year. Festival expenses, such as insurance, security, waste removal, tent rentals, stages, lights…etc. The remainder of the funds that are raised goes back into our local community in multiple ways.
• Scholarships
– We gave 4 scholarships with the help of CEF in 2017
• Donations -
Last year donations were given to: Bands Forever, Warrior Football, Carpinteria Future Farmer's of America, and DAWG to name a few.
• AvoFest is a Carp-Strong event
and focused on helping our local Carpinteria companies/ non-profits especially after losing business during the Thomas Fire/Debris Flow.
• We strive to give discounted or even free booth spaces to local non-profits
and service organizations to raise funds in their own way. This is directly related to the amount of sponsorship money we receive. If we receive plenty of sponsorships to cover our costs, than it is easier to do.
Q. How can people get on the list for a grant/donation?
A. Fill out an application on our website and/or feel free to write us a letter about your non-profit, what your mission statement is and what the funds will be used for.
Q. Do you ever think about how it consumes our little town
of Carpinteria for 3 days?
A.  Yes, and we want to send a HUGE THANK YOU to the community members for letting us use the beautiful backdrop to host the event.
Although the festival certainly brings in a large crowd, the fundraising money and economy boost outweighs the little extra burden for three days. All of the hotels fi ll to capacity and the vast majority of businesses see a significant increase in sales. All of this brings TOT taxes and sales taxes that help fund our City. We look at the festival as a wonderful celebration of our city, our non-profit, and of course the avocado.Along with the scholarships, donations and a platform for the local non-profits to make money, we've done numerous studies over the years, and during the festival weekend our local businesses' sales rise by 30-40%. The hotels and the campground are booked solid, and having the festival here does open the window for tourism throughout the year.
The Board of Directors realized the crowds were getting a little large and stopped all advertisement outside of the Santa Barbara area to help crowd control. We also offer parking at the high school, doggie daycare and we pay for extra security to do our best to keep everyone safe. The more sponsorship moneys we raise, the more local and smaller we can keep the festival. If you are interesting in becoming a sponsor, a volunteer, a vendor, or provide entertainment, please check out our website,
www.Avofest.com
, email
info@avofest.com
or call us at 805-684-0038.
read more
Venue Information
"ADMISSION TO THE FESTIVAL IS FREE!"

At the Main Entrance of the Festival (Carpinteria Ave and Linden Ave) you will find the Avocado EXPO Tent!  The AvoEXPO TENT is home to Avocado agricultural photos, historical photos, lessons in avocado grafting, FFA restored antique tractors, and the Largest Avocado Contest.

The Avocado Festival is home to the WORLD'S LARGEST Vat of Guacamole!  Our FOOD VENUE, that has plenty of creative avocado dishes, can be found on the 800 block of Linden, so come hungry!!

Venture a bit deeper and to find the COMMERCIAL MARKETPLACE on both the 900 and 700 blocks of Linden, and FESTIVAL MERCHANDISE on the corner of Linden and 8th Street.

You and your family can also head to 7th Street to visit our KIDS VENUE, home of the Best Dressed Avocado Contest! There will be lots of fun games, face painting, and activities for all to enjoy!

Our ARTS & CRAFTS VENUE on Linden's 600 block is open for your enjoyment during Saturday and Sunday of the festival!  All crafts are handmade by the artist(s) themselves.

We are one of the largest FREE festivals in California with over 75 MUSIC ACTS on FOUR stages. We will not disappoint this year!!  Check out our "Entertainment" tab for more info and line-up updates! You can also find them on our Facebook Page in early September.

Don't miss the World Famous Guacamole contest and Avocado Auction, Sunday at the Guac and Grotto Stage on 8th Street!
Join the fun on Facebook!